Modern Technology at Timber Ridge Dentistry
To maintain a high standard of care, we have equipped our office with state-of-the-art technology. These tools and techniques allow us to improve patient experience across the board. When you visit Timber Ridge Dentistry, you can expect modern technology for modern dental care.
CEREC® One-Visit Dental Crowns
With CEREC® technology, we can cut down the time it takes to get a dental crown to just one visit! CEREC takes a digital impression, or mold, and then uses that scan to fabricate a tooth-colored crown. That means no waiting for an off-site lab to create and send us your dental crown, and no need for a plastic temporary while you wait.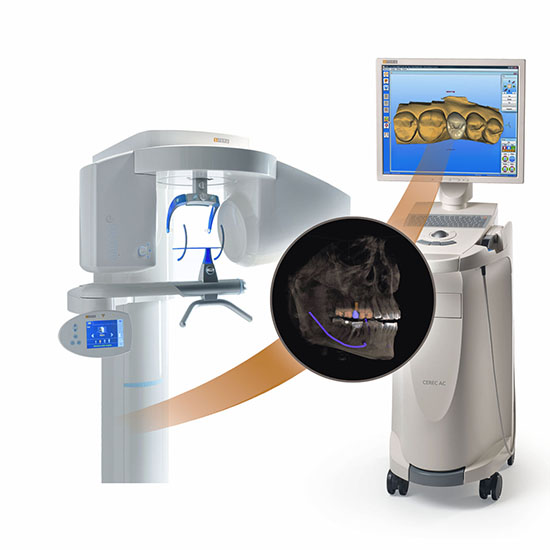 3D X-rays
3D X-rays reveal much more detail than traditional, "flat" X-rays. These scans more accurately show the relationship between your teeth, gums, and jaw, and allow us to view your mouth from every angle. 3D X-rays are taken in a quick, completely painless procedure, providing us with comprehensive images to diagnose and treat issues.
Intraoral Camera
The intraoral camera is a small device that we use to examine your mouth. It looks like a giant pen and projects high-resolution images or footage to a screen in our treatment room. These detailed images let you see exactly what we're seeing in real time. This helps you visualize whatever we discuss regarding the condition or diagnosis of your gums and teeth, so you'll be more confident and informed about your treatment plan moving forward.

Isolite™
The Isolite™ System is an incredibly handy device that benefits both patients and our team during appointments. First, you'll enjoy a more comfortable experience as it lets you rest your jaw throughout the appointment, relieving any fatigue you might feel with keeping your mouth open while we work. On our end, its bright light and suction capabilities let us work more efficiently and improve the quality of our care.
Soft Tissue Laser
Soft tissue lasers replace the need for any scalpels or sutures with gum (or soft tissue) procedures, such as periodontal disease treatment. They are a precise, minimally invasive way to kill bacteria and promote the regrowth of soft tissue cells. Plus, soft tissue lasers help speed up the healing process and minimize pain.
Nitrous Oxide (Laughing Gas)
Nitrous oxide, or laughing gas, is a safe, mild type of sedation that can make dental appointments easier for any patients who are anxious or nervous about treatment. The nitrous oxide is delivered through a comfortable mask placed over your nose. All you have to do is breath normally and the gas will take effect, leaving you feeling relaxed and able to calmly sit through your appointment.